Cooperative associations near the Kongeå
Cooperatives
The cooperative movement arose in the 1860s. Previously, the farmers butchered their own livestock and churned their own butter on their farms, but industrialisation and new machines made it worthwhile to pool efforts at communal slaughterhouses and dairies. The cooperative idea meant buying into co-ownership, building production facilities and taking on managers to process the farm's products.
The first user cooperative was founded in Thisted in 1866, and the first dairy cooperative opened in Hjedding near Ølgod in 1882. The cooperative idea expanded to almost all aspects of agricultural society, such as retail cooperatives, dairies, abbatoirs, savings banks, cold stores, community halls and power stations. From the 1960s onwards, many cooperatives closed down, partly because of the decline in agriculture and partly because society was evolving towards larger scale, professionally-run companies.
Cooperative dairies
The region's first dairy was the "Fælles" or "shared" dairy in Gredsted, which was established by farmer Anders Nielsen in 1881. Farmers could be stakeholders, but it was Anders Nielsen, who laid down rules of supply and quality. Not until 1894 was it decided to change the ownership status to that of a regular dairy cooperative, Gredsted Dairy, which existed until 1909.
Farmers then divided between Gredsted Bridge Dairy Cooperative (established in 1912) and Jernved Dairy Cooperative from 1915. In 1984, Gredsted Bridge Dairy Cooperative was bought by Borden, an American food manufacturer. In 1998, MD Foods (now Arla) bought out the dairy and closed it the following year.
Jernved Dairy Cooperative is the only one of the area's dairies that still exists. In 1992, the dairy cooperative closed down, but quickly reopened as a private dairy under the name Jernved Dairy.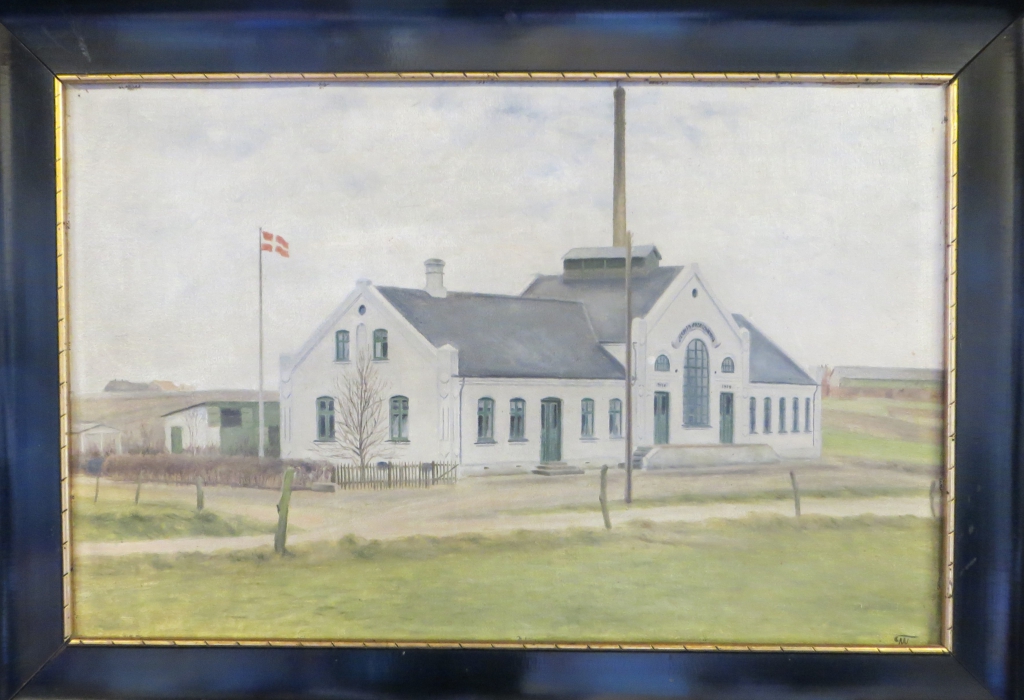 Jernved Dairy Cooperative.
Photo: Charlotte Lindhardt, painting found at Jernved Local archive.
Farmer Peder Klausen had established a dairy on his farm in Plougstrup, but when Tobøl Dairy Cooperative was established in 1885, farmers went there instead.
The Kongeå Dairy Cooperative between Vilslev and Jedsted was established in 1885. The Kongeå Dairy Cooperative burned down in 1934, but was rebuilt. In the early 1960s the society began to discuss whether the dairy should be closed down. It was no longer the right times for small dairy cooperatives and the dairy closed in 1965.
The alfalfa factory, Ribe County Drying Station
In 1963, the region's farmers formed the Ribe County Drying Station Cooperative, which had several functions. Livestock farmers were able to dry grass, and planters could dry grass and alfalfa, which could be used for horse feed.
The alfalfa factory merged with agribusiness DanGrønt and DLG, which closed the drying establishment in 2013. At that time, the annual output was 22,000 tons of green pellets and hay. During the autumn, the station dried cornseed.
The Kongeå region's other cooperatives
Two notable cooperatives or partnerships were the Vilslev and Jedsted-Hillerup canal partnerships that had the same function as a cooperative. They were founded in 1879 by landowners north and south of Kongeåen to streamline meadow irrigation, with two water men handling all operations until 1965.
Jedsted Mill had been a privately-owned power station since 1910, and in1918 it became Jedsted Mill's Cooperative Power Station, which operated until 1965.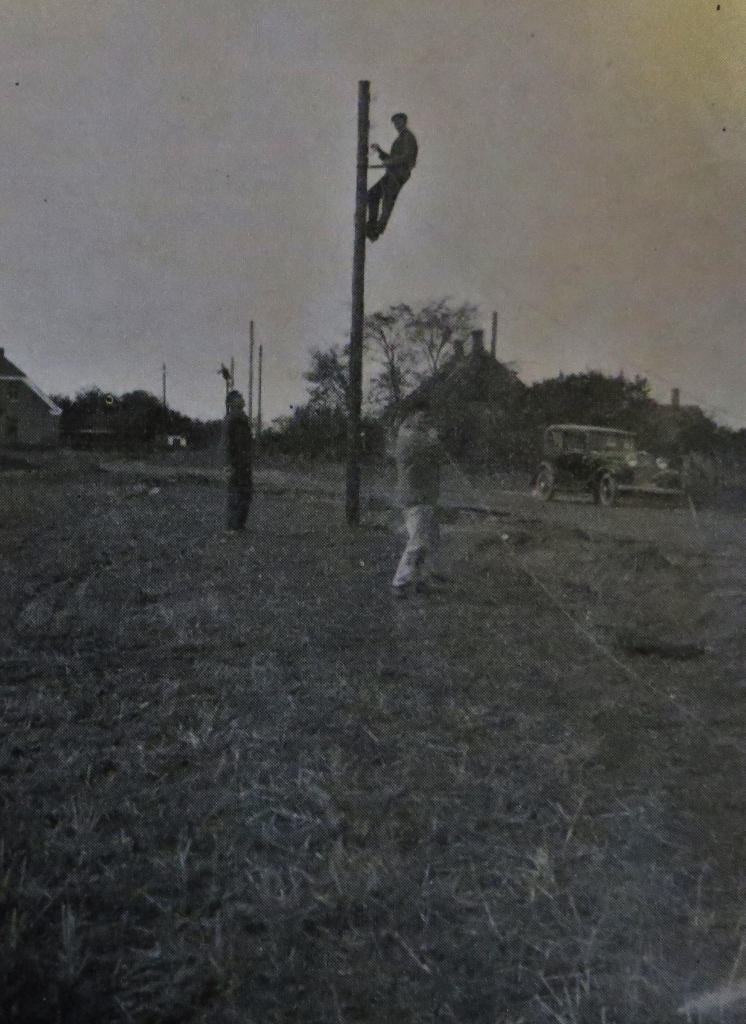 Erecting electricity pylons and power lines to to power station cooperativ at Jedsted Mill.
Photo: Unknown
Gredstedbro Coop opened in 1903, with Kongeå Valley Coop following in 1904. Both still exist today.
Banking was handled by Jernved Cooperative Bank, which opened in 1919 and opened a branch in Gredsted a few years later, just four km from Jernved. The Cooperative Bank's nearest branch is now in Bramming.
Author: Charlotte Lindhardt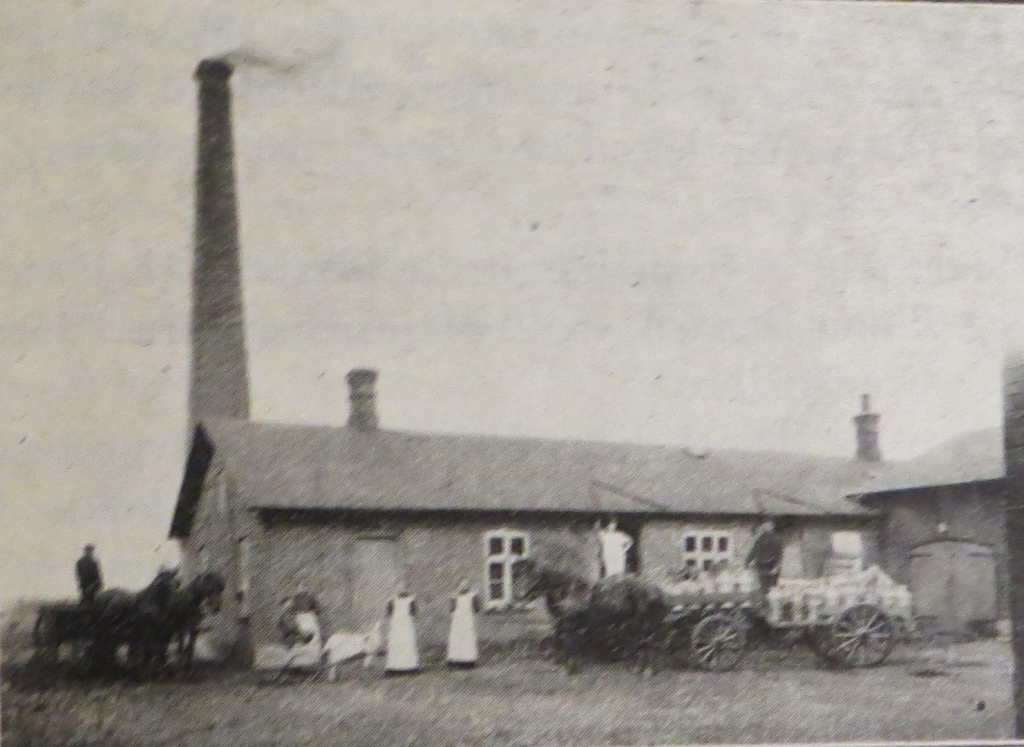 Gredsted Dairy existed until 1909.
Photo: Unknown